---
Earlier this month news emerged that up to 70 shopping centres across the UK were at risk of permanent closure, as the effects of the Covid-19 pandemic continue to manifest in the retail sector.
According to a Local Data Company (LDC) analysis of retail centres in England, Scotland, and Wales, at least 30 shopping centres are now at least half empty, with five having more than 80 per cent of their shops unoccupied following months of lockdowns.
A further 34 have between 40 per cent and 50 per cent of their stores unoccupied, with at least 10 stores in each.
With potential tenants hard to come by, many shopping centres are already set for redevelopment or complete demolition.
---
READ MORE: Are British shopping centres at death's door?
---
Here are six centres which are set to close down for good:
1. Broadmarsh, Nottingham
Demolition starts this month at the Nottingham shopping centre.
"The Broadmarsh Centre is one of the largest regeneration areas in any UK city, and presents us with a once-in-a-generation opportunity to renew our city centre and our city's character," Nottingham City Council councillor David Mellen said.
"It makes sense to take this opportunity to start to demolish this part of the shopping centre now rather than try to modernise and rebuild it.
"This removes part of the barrier the shopping centre created in the city centre and will be far more welcoming to residents, visitors and workers coming in to Nottingham than the current 'patio doors.'
"This first phase of demolition is the start of our plans to redevelop this area, opening up the city centre and extending the excellent new public open spaces being built on Sussex Street, Collin Street and Carrington Street."
---
2. Castlegate, Stockton
Stockton's Castlegate Centre is set for demolition in 2022 after council leaders backed a masterplan to convert the high street site into a "riverside park".
A five-acre park with trees, art installations and a land-bridge to the River Tees has been lined up in place of the 1970s shopping centre.
Councillor Cooke, cabinet member for regeneration and housing, said: "This is going to represent a huge step in the regeneration and repurposing of Stockton town centre.
"The consultation has been fantastic and it's good to hear the public share our vision for demolishing the Castlegate and creating a fantastic riverside park."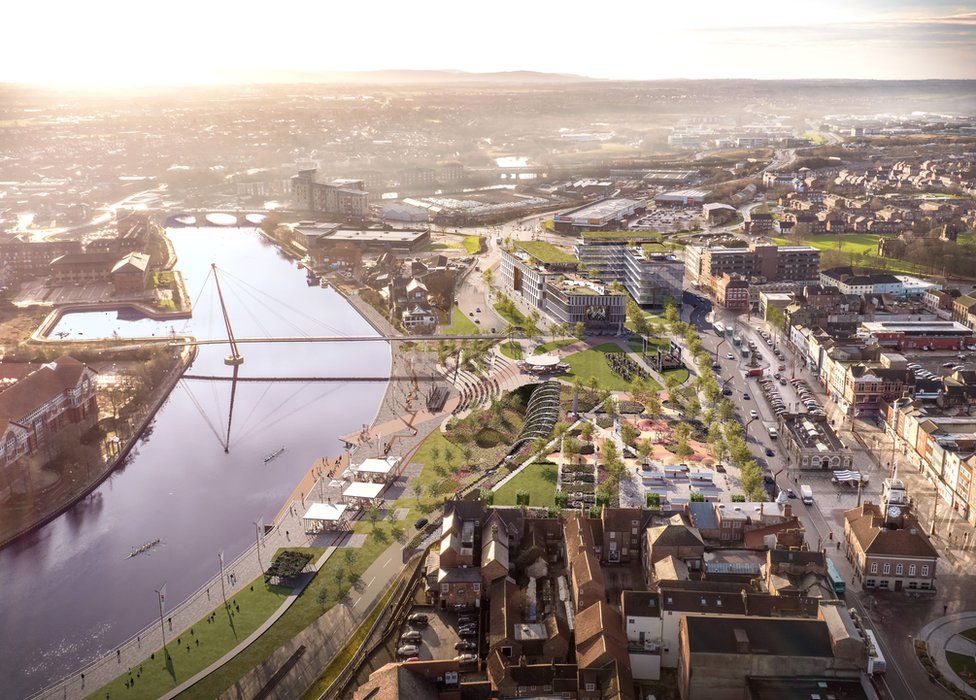 ---
3. The Riverside, Shrewsbury
The demolition of the council-owned shopping centre is due to begin this year.
Once cleared, the Riverside site will be used for new housing, offices, cafes and a promenade, named the New Riverside.
The council's Big Town Plan hopes to enliven the town with new buildings, terraces offering views of the river, busy squares and public spaces.
---
4. Chilterns Shopping Centre, High Wycombe
As part of plans to regenerate its town centre, High Wycombe's Chilterns Shopping Centre is set to be "wiped away" in favour of 300 new homes.
Buckinghamshire Council said its plans for High Wycombe could "be largely complete within the next 18 to 24 months", once it receives £11.8 million in Future High Streets Funding from the Ministry of Housing, Communities and Local Government.
Among its aspirations is "wiping away the blight of the redundant 7035 square metre Chilterns Shopping Centre and replacing it with residential development", according to a council document.
---
5. Nicholsons Centre, Maidenhead
Under plans, the Nicholsons Centre is set to be torn down and replaced with Nicholson Quarter, a new complex where streets and zones will offer retail, offices, public realm and more than 650 mixed-use apartments.
Buildings are set to reach up to 25 storeys and there will be 1319 car parking spaces, including 700 public spots in the new multi-storey car park, and 104 spaces for 364 residential units.
There will be 116 parking spaces for the 307 retirement living apartments.
---
6. Elephant & Castle Shopping Centre
Despite campaigns led by locals and traders, Southwark Council approved plans for the demolition of the much-loved Elephant and Castle Shopping Centre in south London last year.
The 55-year-old centre closed its doors for good in September 2020 to make way for a new high-rise redevelopment offering retail space, restaurants, bars and luxury flats.
---
What other soon-to-disappear shopping centres have we missed? Let us know in a comment below.
Click here to sign up to Retail Gazette's free daily email newsletter