John Lewis Partnership saw sales continue to decline following a record-high during the Black Friday period two weeks ago.
For the week to December 8, the retailer saw sales decline 3.8 per cent to £291.5 million across both its fascias compared to the same week a year prior.
Black Friday still provided a welcome boost for the partnership though, with the two weeks proceeding the event significantly higher than the weeks prior to it, despite seeing the lowest sales since 2016 this week.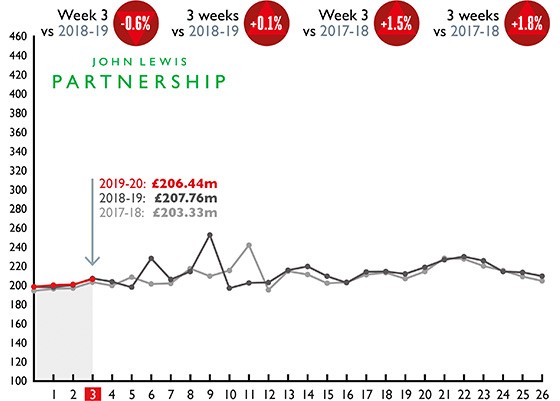 Its grocery business Waitrose saw sales decline 2.6 per cent year-on-year, blaming more widespread promotional activity in 2017.
Despite this Christmas orders grew year-on-year, though ambient and home and general merchandise offset this seeing a 3.3 per cent and 5.5 per cent sales decline respectively.
Its stablemate John Lewis saw the biggest decline, dropping 5.1 per cent throughout the week, with its home and fashion categories dragging down a stronger performance in electricals and technology.
According to the retailer, fashion sales dropped 6.8 per cent thanks to the mild weather, while home sales dived 7.3 per cent despite a rise in Christmas tree and decoration sales.
Click here to sign up to Retail Gazette's free daily email newsletter