Shops are no longer just places to buy things. Visiting a store today must be an experience that people not only enjoy, but share on social media.
This is becoming increasingly evident in store design, with features specifically created to be shared on the 'gram.
Retail Gazette looks at some of the most Instagrammable retail stores in the UK so feel free to share away.
Flannels, Oxford Street
Back in 2019, Fraser Group's Flannels opened its £10 million 18,000sq ft Oxford Street flagship store.
It is a premium fashion emporium. The exterior of the Flannels store features a three-storey wall of digital screens, which at launch was transformed into one of the world's biggest permanent digital public art installations with W1 Curates.
The interior of the store is just as attention-grabbing as the exterior. Designed by Italian studio P con P in partnership with artist Riccardo Previdi, is colourful and vibrant with striking custom light installation, clashing prints adorning the walls and large luxury Persian rugs on the Italian marble floors.
The store features four floors of luxury menswear and womenswear lines as well as a "unique concept floor", which hosts a range of services and experiences with permanent and guest collaborators and concessions.
Meanwhile, an interactive space on the second floor will house a changing line-up of events from art installations, as well as DJ nights every Thursday and Saturday.
Nicce, Carnaby Street
Nicce's flagship store opened this March in Soho's Carbany Street and is inspired by the future of retail.
Alongside the clothing, the store houses a multi-purpose activation space which hosts a variety of "dynamic events and customer activations".
The space also allows up-and-coming talent to collaborate with Nicce and put on events.
---
Glossier, Covent Garden
It's no surprise that Glossier has made this list. It's only natural that a brand that rose to fame on Instagram, would create a store that Instagrammers would love.
Its Covent Garden store, which is based at a 17th-century townhouse said to be the oldest surviving building in the piazza, and is emblazoned with Glossier's signature pink throughout.
Inside an expansive beauty space, also designed in various shades of sugary pinks, is a mirror with the message 'you look good', inviting people to take a snap, and products are found on a special pink conveyor belt.
View this post on Instagram
 Customers can tell staff what they want to buy and their bag of goodies are they dropped down to the till via the converoy belt.
Balenciaga, New Bond Street
Not all Instagram-worthy stores need to have flower walls and vibrant colours.
Last month Balenciaga opened the doors to a very different-looking store on London's New Bond Street and it instantly took social media by storm.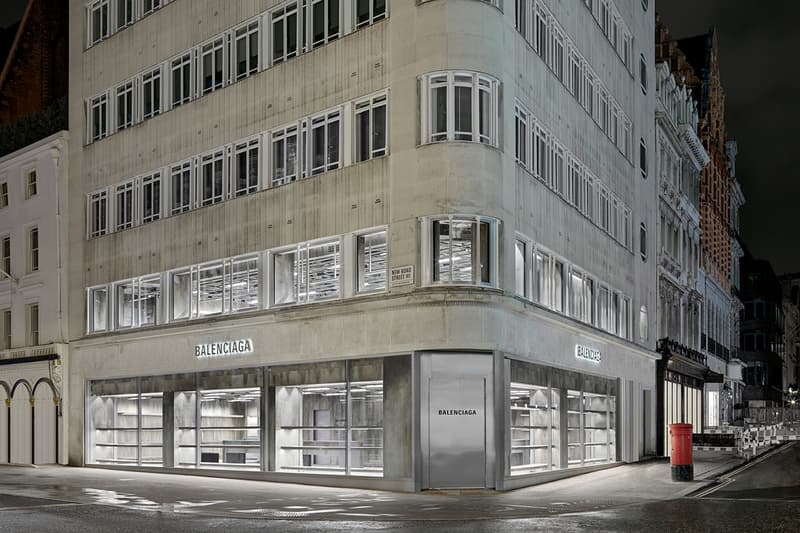 The luxury fashion house's new store features a "Raw Architecture" concept that appears deliberately unfinished in design, with excavated areas shown behind glass and concrete featured across most of the space the space.
---
Browns East, Shoreditch
Unlike its other retail stores, Browns opened its augmented retail concept boutique in 2017 named Browns East in Shoreditch.
The space is constantly changing and flexible and integrates the in-store experience with how Browns' customers already shop online.
Customers will be able to share their purchase history and wish lists with store staff, as well as mobile points of sale and smart mirrors. There is also RFID stock tracking, and any products available online but not stocked in store can be delivered within 60 minutes.
---
Aesop, Covent Garden
Aesop is another brand that constantly comes up with inspiring aesthetic.
The Australian skincare and beauty retailer's Covent Garden store features exposed copper plumbing and light fixtures while a floor of engraved green cement tiles pays homage to the area's Italian-style piazza—London's first open square, constructed in the seventeenth century.
The store was created in partnership with Parisian architects Ciguë, who took inspiration from four design references: a Virginia Woolf quote, a Francis Bacon painting, a Henry Moore sculpture and an excerpt from Beauty and the Beast.
---
Click here to sign up to Retail Gazette's free daily email newsletter