---
As June officially marks Pride Month, it has become tradition for many big retailers to release collections to mark the occasion.
This year, more retailers have collaborated with LGBTQ+ artists and revealed exactly how much money they'll be donating to the appropriate charities, and which charities will benefit from the sales.
Here is a roundup of what some retailers are doing this year.
---
Primark
This year alongside its latest Pride collection, Primark is continuing its partnership with ILGA World, an international organisation that brings together more than 1300 LGBTQ+ groups and advocates for human rights globally.
Primark said it would donate £150,000 to ILGA World, which will be used in their work to advance LGBTQ+ equality in over 150 countries.
---
Boohoo
Boohoo has unveiled its summer-ready Crafted With Pride collection featuring hoodie and short combos in an array of tie dye, acid wash and pastel colours, and with slogans such as "Love is Love" and "I Love Being Exactly Who I Am".
The online fashion retailer will also donate 10 per cent of the proceeds from the collection to global charity It Gets Better.
---
Travis Perkins
Travis Perkins, a supplier and retailer of building materials and owner of the Toolstation chain, is celebrating Pride by using the month to educate staff on what it means to become good allies to LGBTQ+ people and colleagues.
This celebration is integral to the firm's Equality, Diversity and Inclusion strategy – You Be You, It Makes Us Us – to help build a more diverse and inclusive workplace.
During Pride, staff will be invited to embrace the celebrations through active participation in a raft of activities, ranging from allyship education training to reverse mentoring and local leadership team discussions. Those who feel comfortable will also be encouraged to add their pronouns to their email signatures, wear rainbow laces as part of their uniform in branches and stores nationwide, and dress brightly on Fridays throughout the month to show their support.
"Being an ally is about showing support for, and solidarity with, our colleagues from the LGBTQ+ community, and celebrating the diversity of our fantastic business," said Robin Miller, general counsel and company secretary for Travis Perkins and a sponsor for the company's LGBTQ+ network.
"It requires a curiosity about our colleagues, a desire to educate ourselves, and sometimes, the willingness to step in and stand up to others. An ally shouldn't be prepared to leave unacceptable behaviour unchallenged.
"Fostering a work environment where our colleagues can be themselves without fear of discrimination and to feel included and supported is essential to enabling them to be happy and productive."
---
Dr Martens
Dr Martens celebrating Pride Month with the 1461 For Pride shoe.
Constructed with classic Docs DNA, this shoe pays tribute to Pride with a rainbow heel loop and stitching in addition to an embroidered rainbow flag.
Every year Dr Martens supports the Pride movement by donating to the Albert Kennedy Tryst, the charity for LGBTQ+ youth homelessness. Dr Martens also donates to the Trevor Project and has committed to a $100,000 donation and year-round partnership to help share resources to those in need.
---
Vans
In honour of Pride month, Vault by Vans is celebrating the message of "Together As Ourselves", with a range of footwear featuring woven nubuck leather in a rainbow colourway.
Vans will also donate $200,000 to GLSEN, Casa 1, Where Love is Illegal and Tokyo Rainbow Pride.
---
AllSaints
As part of AllSaints' Pride collection this year, £10 from every sale will be being donated to the Kaleidoscope Trust.
This UK-based charity focuses on fighting for the human rights of LGBTQ+ people across the Commonwealth. They fund, fight and empower by working with governments, change-makers and civil society organisations that impact the lives of LGBTQ+ people everywhere.
---
Gap
This year, Gap has released an exclusive collection of t-shirts, which is available in the UK, created by LGBTQ+ artists.
The retailer also confirmed a donation of $50,000 to GLAAD.
---
Apple
Apple has launched a new edition of its Apple Watch for Pride 2021 that features the colours of the rainbow flag.
On its site, the tech giant and retailer said that the new braided solo loop represents the breadth of LGBTQ+ communities and experiences.
"Even before the events at the Stonewall Inn brought the LGBTQ+ movement to new prominence, Black, Brown, and transgender activists were key leaders in the march toward equality," Apple chief executive Tim Cook said.
"On many fronts, Apple supports the ongoing and unfinished work of equality for diverse and intersectional communities, and we want to provide every opportunity to celebrate and honour this history during Pride season."
Apple also confirmed it would donate proceeds to ILGA, The Trevor Project, and LGBTQ+ youth charity GLSEN.
Apple also said it would support Encircle, Equality North Carolina, Equality Texas, Gender Spectrum, Human Rights Campaign, PFLAG National, the National Center for Transgender Equality, and SMYAL.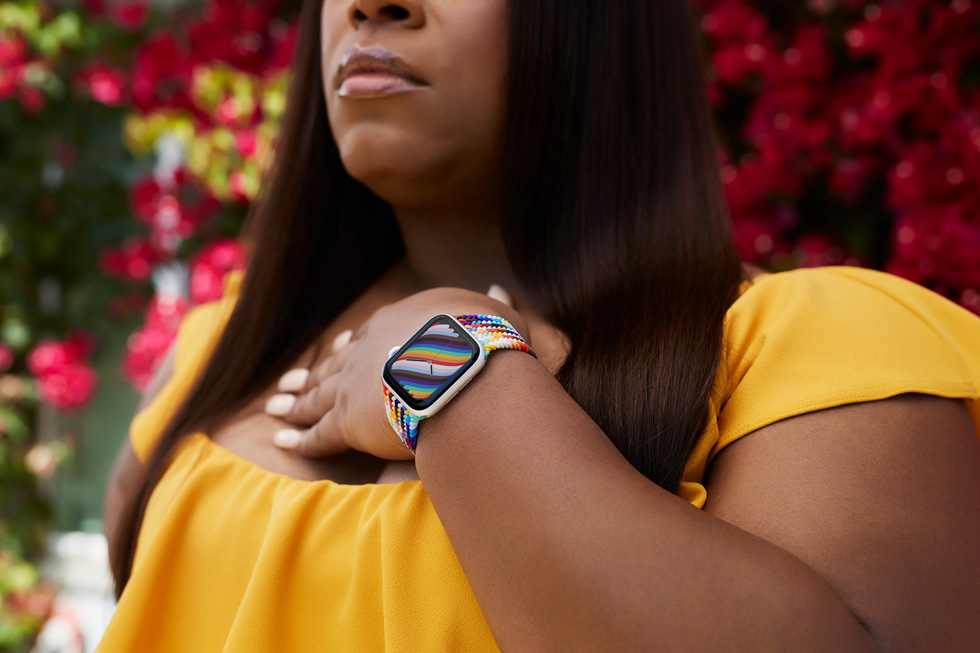 ---
Puma
This year Puma has teamed up with the model and activist Cara Delevingne to launch its second Forever Free Pride Collection to celebrate Pride Month.
The unisex collection includes t-shirts, hoodies and more while the footwear includes a Pride-inspired Puma Suede, as well as a rainbow-embellished slide.
Puma has also announced that 20 per cent of the proceeds, with a maximum donation of $500,000, from sales will go to the Cara Delevingne Foundation, part of the Giving Back Fund, and will be used to support LGBTQ+ charities around the world.
---
Levi's
Levi's Pride campaign for 2021 focuses on the importance of respecting people's pronouns and features staple denim pieces reimagined for Pride, with phrases including "they/them, she/her, he/him, we" embellished throughout.
The fashion retailer will also make a donation to OutRight Action International, working to advance human rights for LGBTQ+ people all over the world.
---
New Balance 
New Balance has released its "Everybody's Welcome" collection to celebrate Pride 2021, designed by the Hong Kong-based artist Zioe Lam and inspired by the community's vibrancy.
The footwear brand and retailer will also continue its support of GLSEN and its Changing the Game program, which is designed to create safer school environments for all budding LGBTQ+ athletes, with a $100,000 donation over the next two years.
---
Radley London
Radley London has teamed up with UK-based charity Stonewall to release a rainbow tote bag.
The reversible bag features the brand's logo in rainbow on one side, then a colourful, design on the other.
Twenty per cent of sales of the Pride bag will be donated to Stonewall.
---
The North Face
For Pride Month, The North Face is celebrating the joy of the outdoors with a series of actions aimed to support the LGBTQ+ community who love to explore.
The retailer's new Pride collection will directly support LGBTQ+ groups with €1 from every piece sold going to groups who aim to further representation in the outdoors.
The North Face added that the support will run beyond the month of June, with the business stating it was "committed to creating real change" in the business.
Groups to receive financial support from the launch of The North Face's new Pride collection include the Berlin-based Queer Climb, Italian sport association GAYSC, and The Mark Scott Leadership For Life Award, which is partnered with The Outward Bound Trust in the UK.
---
Click here to sign up to Retail Gazette's free daily email newsletter